ISO recently published the results of a survey questionnaire circulated last year to the international community .  The purpose of the survey was to help guide the ISO technical committee (TC 207) revision of ISO 14001 scheduled to be released next year.  The survey reached over 5000 organizations or individuals in 110 countries worldwide.  57% of the respondents were in Europe with only 17% responding from North America.  54% of those responding were actual users of the standard such as industries and 45% were either consultants, certification bodies performing audits or other types of organizations.
The survey asked questions about the perceived value of ISO 14001 to Environmental Management and Business Management.  The areas where ISO 14001 was thought to be most valuable were:
Ability to meet legal requirements
Environmental performance improvement
The areas where ISO 14001 was thought to be of least value were:
Providing financial benefit
Improvement in supplier environmental performance
The overall average percent of very high to high value responses was 54% with only an average of 15% recording a perceived low or no value for all areas.  This suggests that participants have a generally positive opinion of the value of ISO 14001.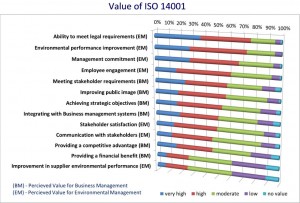 One  of the puzzling results of the survey was over 75% of respondents rated  ISO 14001 very high or high in its value  for environmental performance improvement but only about 25% believe that the standard provides a significant financial benefit.  Apparently survey respondents do not believe that investing in ISO 14001 as a way to reduce waste and resource use will provide an acceptable  return on investment.
Another surprising result is that almost 70% of respondents rated meeting stakeholder requirements as very high or high but only 27% believe that ISO 14001 has very high or high value when it comes to improving supplier environmental performance.  It's difficult to tell from the data what survey respondents were thinking when they read "stakeholders", but in my opinion there is a good chance they were thinking about their customers that require them to have an ISO 14001 EMS.  If 70% believe ISO 14001 improves performance and 60% implemented ISO 14001 to satisfy a customer requirement why are they not making the connection that the purpose of them being required to have an ISO 14001 is a result of their customers' efforts to influence the environmental performance of their suppliers?
Thanks to Dr. Lisa Greenwood, Lecturer in Environmental Sustainability, Health and Safety at Rochester Institute of Technology for leading the evaluation of the survey. Here are links to documents evaluating the survey responses:
ISO 14001 Survey 2013 – Final Report and Analysis