Environmental Compliance Systems, Inc. (ECSI) is pleased to announce the release of CorrectTrack 2.0 soon.  CorrectTrack 2.0 marks a significant improvement in the applications ability to provide important ISO management system performance information quickly to users.
Over a decade ago ECSI began to explore digital tools to enhance our ISO consulting, auditing, and training practice. We were looking for a cloud-based application that helps our clients and others implement and operate ISO continual improvement management systems. Being unable to find a suitable off the shelf solution we began adapting available open-source bug tracking software. The objective was to provide a systematic corrective action tracking process that was superior to existing Microsoft access database and excel spreadsheet solutions. The list of organizations using CorrectTrack has now grown to over 40 organizations and 450 individual users. To our knowledge CorrectTrack continues to be the only cloud-based application designed exclusively for ISO 14001, 45001, and 9001 management systems.
CorrectTrack 2.0 has better dashboard user experience and more flexibility to let users configure it to their specific needs. Users will have access to all the application features including:
Permissions based user access and functionality.
Approval gate process for corrective action investigation, verification, and closure
Risk management module for all ISO management system standards including 9001, 14001 and 45001.
Internal audit planning and follow-up.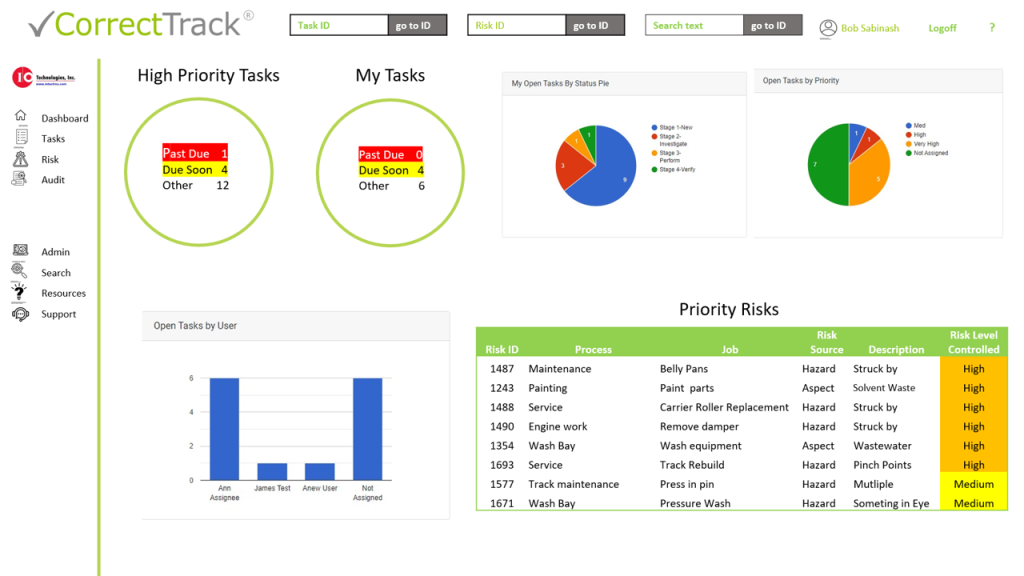 As part of the CorrectTrack 2.0 rollout we are offering a free consultation to ISO management system experts and representative to explore how the application can benefit you ISO management system and improve your organizations occupational health and safety, environmental and even quality performance.
Contact us for more information on how CorrectTrack 2.0 can help your organization's ISO management system performance.  If you like what you see, we will help you get started with a free application trial period without any obligations or fees.